Post­grad­u­ate applied Arti­fi­cial Intel­li­gence
22

 – 

23
Voor wie
You already have a degree and/or you are an innovative entrepreneur or an aspiring business developer.
You are passionate about technology and want to be part of the rapidly evolving world of artificial intelligence.
Your thinking is solution-oriented and you are creative.
You like to analyse problems and solve them systematically. 
You have basic programming skills. No programming experience? Then you can first take a one-year Programming course and then join this postgraduate programme
All info in one handy folder
Certificate applied Artificial Intelligence in 1 year
We offer you a one-year course that provides you with the tools, techniques and knowledge to become an all-round player in the field of applied artificial intelligence.
When do the courses take place?
The lessons always take place on Tuesday 9 am - 6 pm, which makes combination with work possible. 
Will the courses be in English or in Dutch?
The courses will be in English.  Most lecturers will be able to answer your Dutch questions too though.
Can I take the courses without a bachelor's degree?
Yes, but then you won't receive a postgraduate degree, only a certificate.
What does basic programming skills mean?
The postgraduate is very application-oriented.  You will have workshops every week using the computer.  Mostly we will be using Python.  If you search the internet, you can find some excellent basic Python tutorials.  Be sure to understand basic programming concepts like variables, basic arithmetic functions, string manipulations, looping and conditionals. No extensive knowledge of Python is required since we will mostly be using standard libraries.
Do I have to attend every course?
No, you are not obliged to.  Though, the strength of our programme is the personal interaction between lecturers and students and hence the possibility to ask questions during the whole day. Keep in mind that for group projects, your presence is mandatory.
Do I have to follow the full programme (at once)?
No, you don't.  The programme is fully modular: you can follow every module separately. You can e.g. easily follow only Robotics or Data Science.  However, some courses build on knowledge thaught in previous courses so there are some logical prerequisites per course which can be consulted per course here (per course under "Volgtijdelijkheid").
Where can I find more information about the courses?
You can find more details on the courses here.
Where can I consult the course schedule for the coming year?
You can download the schedule right here.
What about COVID-19?
During COVID-19 we opt for blended learning. This means that each time a different part of the students will be able to come to the campus to follow the lessons, while the others can follow simultaneously online and ask questions if necessary. This way, we reduce the risk of infections and we can still guide you personally. Whoever wants can follow completely from home.
Since all lectures will be recorded, it is also possible to watch the lectures at a later time if you are not able to attend classes.  However, this is not recommended since you will miss interaction with the lecturer.
You can read more here:
Fundamentals first, then a range of applications
We provide you with the necessary tools, techniques and insights to become an all-round player in the field of artificial intelligence. The first semester will be all about the foundations of artificial intelligence with deep insights into data science, machine learning and big data. The second semester will have a focus on practicality, where intelligent interfaces, NLP platforms, speech platforms, computer vision and robotics will be at the centre of our programme. Finally, you also get the opportunity to gain experience in the field during an internship at an AI company.
AI fundamentals
During the introductory week you will be immersed in various aspects of AI: how does AI learn, which techniques and applications are there, and what are the pitfalls and limits that you have to take into account?
Data Science
You become acquainted with the entire work chain of the data scientist, from collecting and processing the data over modelling the problem to deliver the result to the customer. We always emphasize the pitfalls and the boundaries of AI and we ensure that our results are ethically responsible and safe.
Machine Learning
We dig deeper into the core of AI: machine learning. We deal with regression and classification, investigate the functioning of neural networks, deep learning, genetic algorithms, clustering, etc. We learn to train models using existing libraries, considering the limitations of the data set that we are starting from.
IoT & Big Data
IoT is getting more and more important in our daily lives. Smart cities, industry 4.0, e-health, the applications are countless. Through this evolution, loads of data are being created that all have to find their way to the Cloud where they are processed into information that is of interest to the user. In this course we learn techniques to process and visualize large amounts of data in an efficient way. We are also introduced to the newest trend of edge computing that places less pressure on the Cloud.
Intelligent Interfaces
This course deals with the "brain" aspects of AI that are necessary for a computer to communicate with people: hearing, seeing, understanding, speaking. Starting with the principles of computer vision, speech processing and NLP, we build towards the integration of the various components in intelligent virtual assistants.
Robotics
This practical course examines the aspects of AI that are necessary for a robot to function: starting from the sensors, we learn how a robot processes information, navigates, collaborates in a group and teaches itself new techniques through reinforcement learning.
Internship
To apply this practical knowledge to real-life examples, you have the opportunity in this course to follow an internship in a company that is involved with AI on a daily basis. 
AI fundamentals
In de kennismakingsweek word je ondergedompeld in verscheidene aspecten van AI: hoe leert AI, welke technieken en toepassingen kent het, en wat zijn de pitfalls en limieten waar je rekening mee moet houden?
Data Science
Je maakt kennis met de volledige werkketen van de data scientist, van het verzamelen en verwerken van de data over modelleren van het probleem tot het uitrollen naar de klant toe. We leggen steeds de nadruk op de pitfalls, de grenzen van AI en we zorgen ervoor dat onze resultaten ethisch verantwoord en veilig zijn.
Machine Learning
We gaan dieper in op de kern van AI: machine learning. We behandelen regressie en classificatie, onderzoeken de werking van neurale netwerken, deep learning, genetische algoritmen, clustering enz. We leren modellen trainen met behulp van bestaande libraries en hierbij rekening te houden met de beperkingen van de dataset waar we van vertrekken.
Stage
Om deze praktische kennis toe te passen op real live voorbeelden heb je in deze opleiding de kans om een stage te volgen in een bedrijf dat dagelijks met AI bezig is.
IoT & Big Data
IoT is aan een stevige opmars bezig. Smart cities, industrie 4.0, e-health, de toepassingen zijn legio. Door deze evolutie worden massa's data gecreëerd die allemaal hun weg moeten vinden naar the Cloud en verwerkt worden tot voor de gebruiker interesante informatie. In deze cursus leren we technieken kennen om grote hoeveelheden data te verwerken en te visualiseren op een efficiënte manier. We maken ook kennis met de nieuwste trend van edge computing die de Cloud minder zwaar belast.
Intelligent Interfaces
Deze cursus behandelt de "brein"-aspecten van AI die nodig zijn om een computer te laten communiceren met de mens: horen, zien, begrijpen, spreken. De beginselen van computer vision, speech processing en NLP worden meegegeven, om te komen tot de integratie van de verschillende componenten in intelligent virtual assistants.
Robotics
Deze praktische cursus onderzoekt de aspecten van AI die nodig zijn om een robot te laten functioneren: vertrekkende van de sensoren leren we hoe een robot informatie verwerkt, navigeert, samenwerkt in een groep en zichzelf nieuwe technieken aanleert mbv reinforcement learning.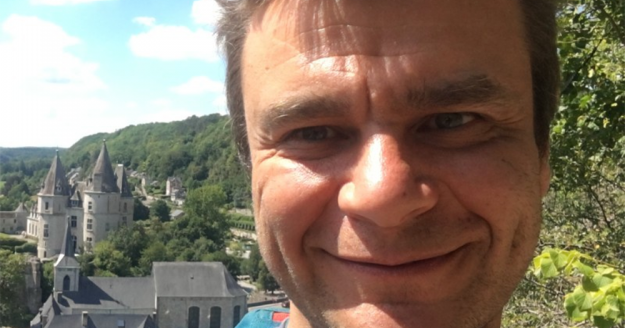 Maarten Dequanter
Maarten Dequanter is lector at Erasmus University College Brussels for the graduate IoT and the postgraduate AI(Big data & IoT). He is a researcher for the knowledgecenter Artificial Intelligence of the Erasmus University College Brussel. He is an expert in prototyping of applied Robotics & AI applications. He has always been an entrepreneur and started many different companies.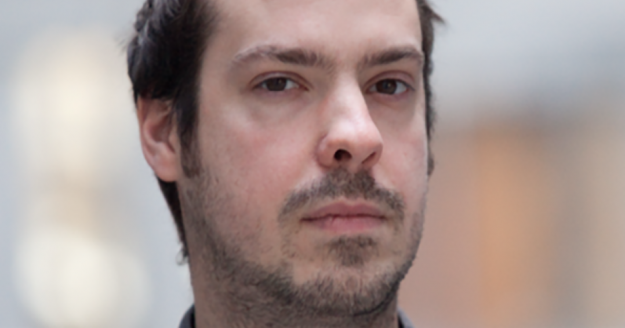 Johan Loeckx
Johan Loeckx started as a micropreneur when he was 16. He received a MSc. in Electronic Engineering (2003), Msc. in AI (2004) and a PhD in 2010 from K.U.Leuven. He co-designed the Belgian health record encryption system, for which a patent was filed. He co-founded a Freinet school and is an active musician. Johan is professor and lab manager at the Artificial Intelligence Lab at the Vrije Universiteit Brussels.
The postgraduate Artificial Intelligence is future oriented
Artificial Intelligence (AI) is quickly emerging as one of the most important technologies of our time. Recent developments in the way a computer improves its performance without human interference, have led to a whole new generation of applications that are changing the way we work and live.
Machine Learning algorithms are improving the efficiency of e-commerce, self-driving cars are driving in our streets thanks to image recognition, voice assistants and chatbots are revolutionizing finance, healthcare, retail, … the examples are endless. More and more companies want to introduce AI in their business.
This results in a booming demand for data scientists, innovative entrepreneurs, NLP experts and allround AI experts. This postgraduate meets this increasing demand: it transforms you into an allround AI player who is aware of the latest trends in AI and who can get started with the most important applications.
Your Campus
Campus Kaai
In Anderlecht 
Brussels is the beating heart of the IT and multimedia industry
Near Brussels-Midi station
IT campus: media lab / fab lab / design lab / network lab
Arts campus: musical, theatre and drama
Nice student resto with hot meals, sandwiches, salads, soups etc
Green space to sit outside
Easy access by train, metro, bike, scooter
Large parking area  
Contact:
Opening hours student administration:
Monday till Friday
9 am tot 5 pm
Tuition fee
Please find below the fees for the postgraduate (2021-2022):
Rate including internship: €2.040
Rate excluding internship: €1.890
You can also enrol per module, would you only like to start in February or if you want to spread out the programme.
Module 1 (September 2021 - January 2022): €1050
Module 2 (February - June 2022): €1100 excl. internship/ €1.300 incl. internship
Material fee
The purchase of material that will be used during the course (Raspberry Pi, Arduino sensor module kit, ...) is included in the enrolment fee. It's optional to use Plurarsight, we calculate a one-off amount for each academy year of  €80. Would you like to purchuse this, just send us an e-mail .
We open our doors on different days during the year. You are more than welcome for a fun chat with our lecturers and students, a tour on our campus, a look into our teaching materials and your registration.
Saturday 19 March (10h - 13h)            
Saturday 25 June (10h - 15h)               
Saturday 03 September (10h - 15h)             
Saturday 10 September (10h - 15h)
Requirements
The only prerequisite to start is holding a bachelor or higher degree. Please take into account that we do expect a basic level of programming skills. Did you never program before? Then you can first follow a one-year programming course and then join the postgraduate course.
Apply
You can register easily online. There you will also find everything about the registration fee and educational leave. Are you registered online? Take your file to the student secretariat of the campus where you will soon be taking lessons
Contact
Erasmushogeschool
Nijverheidskaai 170, 1070 Anderlecht