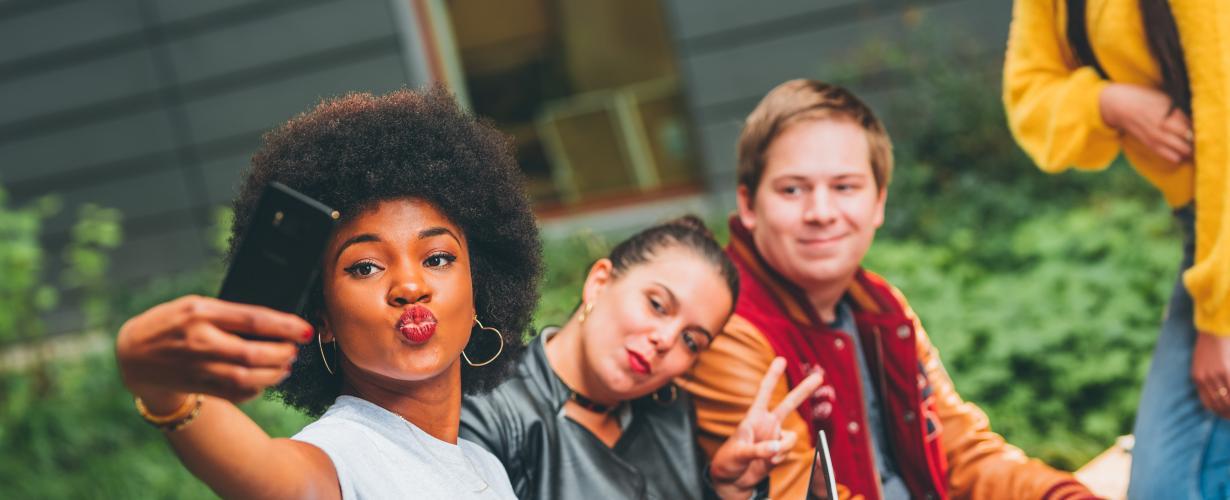 Tourism and Leisure Management
Fall semester: September 20, 2021 – February 4, 2022
EhB Welcome Day: 16 & 17 September 2021
Winter holidays: December 27 - January 7
Examinations: January 10 - February 4
The professional bachelor's programme in Tourism and Leisure Management at Erasmus Brussels University of Applied Sciences and Arts is a challenging and future-oriented programme. Our campus is located in the touristic and trendy part of Brussels. This cosmopolitan and very diverse city is our daily source of inspiration.

Our focus is on sustainability, metropolitanism and world citizenship. We support and inspire creativity, openness towards different cultures and a critical attitude. Discover the world in Brussels. We create your journey. Incoming Erasmus mobility for study during the fall semester only, but students combining study and internship can apply for a full academic year.
TOURISM AND LEISURE MANAGEMENT MANDATORY SUBJECTS
Innovation and Product Development in Leisure and Tourism
Create with your team of approximately 3 students an innovative touristic or recreational product that fulfils certain objectives and requirements. Research, innovation and project management are needed.
This course consists of 2 stages: research and concept development + product development. Your team works with the support of a coach and can consult various helpdesks along the way.
This is a mandatory subject. 

Evaluation:
80% paper, 20% oral exam>
Extra costs:
syllabus & €15 for extra muros

Language of instruction: English.
Meetings Industry
Gatherings have been a part of people's lives since the earliest recorded history. Once humans developed permanent settlements, each town or village had a public meeting area, often called a town square, where residents could meet, talk and celebrate. Nowadays, the business events market - or the 'meetings industry' as it is generally called - is the 'backbone' of the client base for many destinations around the world. The meetings industry represents a significant proportion of domestic and international tourism in many destinations.
Get to know the sector and its stakeholders, become inspired by this fascinating part of the tourism industry!" 

Evaluation:
100% written exam
Extra costs:
handbook
Language of instruction: English
Tourism Communication
Ever considered the role of text in travel? Be it in social media posts, TripAdvisor reviews, AirBnB descriptions, travel guidebooks, or newspaper travel sections: words and images play an indispensable function in making us curious about the world. This course immerses you in the ins and outs of travel writing. Step-by-step, you will obtain more confidence to mould your own travel stories into the right words and structure. The course provides you with the necessary tools to finetune your writing skills, always starting from your individual travel preferences and experiences. 
You will learn to mix your own travel anecdotes, memories, and trip tips with the right adjectives and appealing sentence structures. The result? A range of triggering travel writing pieces. At the end of this course you will have experimented with writing your own listicle, travel guide, and/or personal travel story. You will get the chance to showcase your texts on our students' blog.
Curious? Take a look at our bilingual (Dutch-English) Wandermust-blog or follow us on Facebook or Instagram to discover what our students are writing about right now! This is a mandatory subject.

Evaluation: The final score for this course is based on permanent evaluation of concrete writing assignments.
Extra costs: handbook
Language of instruction: English
Introduction Project Brussels
In this immersive project you will get to know more about Brussels, its historical development, the main tourist attractions and how these play a role in the tourist industry. During this project, which will take place in the first week of the academic year, you will get practical assignments about the tourism, recreational & cultural sectors in Brussels. The program contains visits to museums, the viewing of documentaries,  a biking tour and a visit to a Unesco World Heritage site. A month after this immersion a written exam will follow based on texts from a reader.
This is a mandatory subject. 

 Evaluation:
100% written exam

Extra costs:
syllabus & 70€ for entrance fees and bike tour

Language of instruction: English 
TOURISM AND LEISURE MANAGEMENT ELECTIVE SUBJECTS
English 1
(o In this (upper) intermediate level English-language course we explore a variety of topics related to the professional sector of tourism and leisure. We dive into English business and tourism vocabulary, figure out how to promote yourself when applying for a job and discover the European (mis)understandings of the United States of America as well as the major tourist highlights of the USA. In this context we sharpen your language skills by consolidating your fundamental English grammar and refining your language use.
Evaluation: 35% permanent evaluation, 30% oral exam, 35% written exam
Extra costs: syllabus & 2€
Language of instruction: English
IT-tools (GDS/Amadeus)
IT is everywhere in the tourism industry. In this course we take a closer look at a number of typical applications. BTN4U introduces you to the way in which tour operator products are sold on the Belgian market through travel agencies. We also look at the sale of airline tickets using a GDS system. During the practical sessions you will learn how to make a full reservation via the Amadeus GDS. In addition to the specific tourism software, there is also room to brush up on your basic Microsoft Excel skills.
Evaluation: 25% permanent evaluation, 75% final exam
Extra costs: syllabus
Language of instruction: English
Tourism Lab
Tourism Lab Covid-19 has firmly shaken up the travel industry. While we are forced to stand still, the time is right to think about tourism recovery. As a niche tour operator, you get to work within the current global challenges. In small teams you develop an innovative tour within Europe with a focus on innovation, sustainability and feasibility. Supported by your coach, you will work as a team to come up with insights, conclusions and new ideas to provide an answer to the travel world of tomorrow.

Evaluation: 50% paper & 50% observation

Language of instruction: English
Survival Dutch
The aim of the "Survival Dutch" course is to master the basics of the Dutch language, both written and spoken. Starting from everyday situations, you will learn the necessary grammar and vocabulary in order to function in a Dutch speaking environment.

We strongly recommend incoming students to participate in the Survival Dutch course, organized prior to the start of the semester:
from September 7th - 17th.

Languages of instruction: English and Dutch
Human Resources Management
To make the students aware of the importance of the Human Resources role by introducing to them the basis of People Management.
The course 'Human Resources Management in the Hospitality Industry' aims at introducing the students to the HR function in a hotel.
Moreover this last year's Bachelor course focusses on taking up leadership and supervision in their future managerial jobs.
Apart from the administrative aspects of the HRM cycle (selecting, recruiting, training, rewarding and promoting staff until the exit management), the attention goes to the soft skills students should develop in order to manage their own career as well as the career of colleagues. Practical examples and testimonies from professionals are shared and exercises for the students are woven all through the course.
The Human resources department is often considered the ear and the heart of the hotel. No doubt the staff costs are among the most important in the P&L statement of a hotel. On the same time, those costs are probably the best manageable part. Hence, Productivity management becomes paramount in the total R.O.I. of a hotel.
The HRM course teaches how to motivate a multicultural workforce in a fascinating business with all nowadays challenges linked to it.

Evaluation:
100% written evaluation
Language of instruction: English
Opera Hotel Information System
The students will gain an insight into the basic principles of a Property Management System and this will be done by making practical exercises and learning technical terminology.
In general the course consists of:
 
introduction of concepts;
technical terminology ;
reservations (create, modify and correct);
check-in and check-out;
cashier, postings and Rooms Management
Evaluation:
100% tested on the programme on the computer

Language of instruction: English
Rooms Division Management
Topics Rooms Division Management:
1. Planning for quality service
2. Delivering guest service through employees
3. Front office functions and possibilities
4. Front office organisation & positions
5. Revenue management: strategic pricing, the role of value in pricing, differential pricing, forecasting demand, inventory and price management, distribution channel management
6. Management reports and communication between different departments, including the night audit
7. Principles of Housekeeping Management
8. Work schedules planning

As part of the course, a day with guest speaker(s) is organised around etiquette & service in the intercultural context of hospitality

Evaluation:
100% written evaluation 

Course materials: Syllabus 

Language of instruction: English
Cross Cultural Management
In the first part of the course, the focus is on different models of cross-cultural research that can be used when working with the manifestations of cultural differences. These models and their concepts are elaborated by using them to discuss differences between Belgium and other European cultures on the one hand, and between Belgium and African, Asian and Arabic cultures on the other hand. In the second part, the focus is on cultural differences relating to specific management contexts. Successively, we focus on human resources management (hiring, motivation, performance appraisal and feedback, rewarding, career counseling), negotiations, business ethics, conflict resolution and leadership, within the context of international management.

Evaluation: 100% written exam in January. (re-sit in August/September is possible)

Course materials: Manual: Intercultural Skills for International Business and International Relations (Author: S. Paul Verluyten) + study material on Canvas (online school platform). 
Language of instruction: English.
Presentation Skills
This course is taught by a former journalist/TV-presenter and partly takes place in an audiovisual studio. The book 'Presentation Techniques' by Van der Laan provides a theoretical basis. As a group; we visit Belgian television and several tv-productions.

Language of instruction: English
Traineeship
only available for incoming students spending the whole academic year at EhB
B2 proficiency in both English & French is required
Describing the tourism sector in general is not an easy feat. The tourism sector can boast of a diversity in jobs, functions and tasks. This means that the content of the traineeship depends on the work placement itself.
Students can depending on their interest, future expectations and personality, deepen their knowledge of the different aspects of the tourism sector, and this in a work environment of their choice under guidance of a coordinator.
Some possible work environments are:
- travel agencies for outgoing/incoming tourism (both leisure and business travel)
- tourist services
- event management
- aviation, airports & other transport agencies
- ...
ECTS: 30 or 24 (if combined with IT-tools and Tourism Lab)
Evaluation:
70% observation, 30% portfolio
Language of instruction: French/English