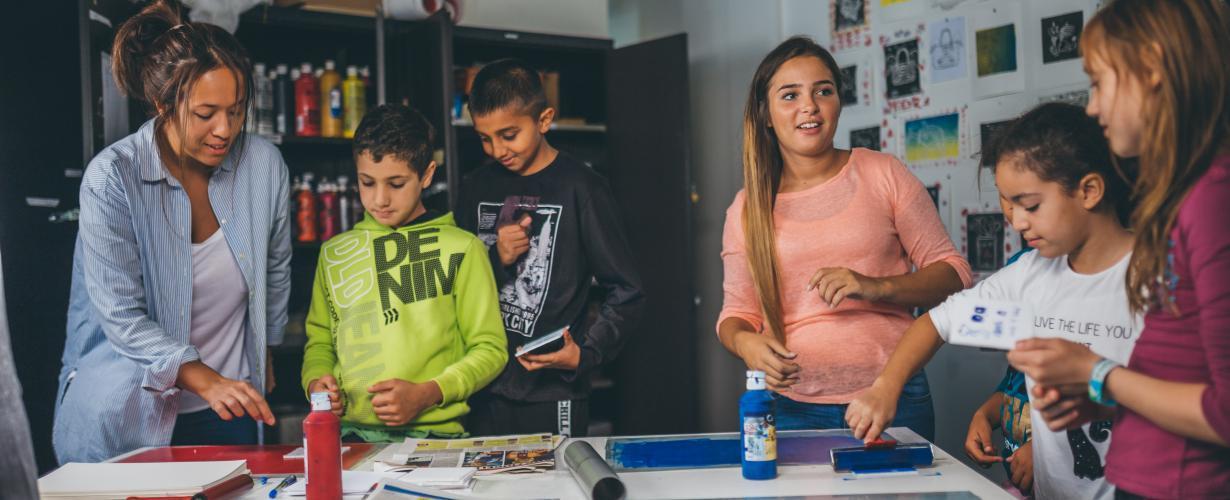 Spring semester: Februari 14 – July 1, 2022
EhB Welcome Day: tbc 
Examinations: June 6 - July 1
Erasmus mobility is organised during Spring semester only.
International Urban Education Program

Do you have a lot of imagination? Are you curious and empathic? Do you want to become cultural aware through meeting and connecting with others? And are you passionate about redefining the future of children and youngsters growing up in the big city? Then join our International Urban Education Program. Come and discover how you, as an educator, social worker, (pedagogical) coach, pedagogue,... can use the multicultural and metropolitan context to enhance the life of children and youngsters in a superdiverse city.

Through practice-based projects and internships you will get a closer look at the diverse reality of Brussels. You will encounter a broad range of organizations in the field of education, welfare, family-support, culture and youth. The voice and perspective of children, youngsters and educators working in the field will be the guiding force throughout the program.

Wandering through the metropolitan city of Brussels you will be immersed in cultural education and learn the importance of public perception, qualitative interactions, multilingualism and coaching. All while focusing on the 21st century skills. Skills that will give you the ability to respond innovatively and creatively to this ever-changing world.
Course offerings for incoming students
Primary Education for Exchange students 21-22
Urban coaching & education
In Urban Education we focus on following themes for the educational professional:
Diversattude:
The diversattude: the powerful way to work with diversity. 
 The challenges and needs of pedagogical contexts to support professionals to enhance her/his diversattude.
 Art-based and narrative methodes
 Sense of being and belonging in pedagogical contexts
Multilingualism
 Multilingualism as a resource in primary education
Dialogue in controversial themes
framework and dialogue and communicational theories
nature and incidence of controversial themes
Language of instruction: English.
Educational Issues in an Urban context
Characteristics of the urban city (ex. demografic aspects) with Brussels as case study
The historical, economic, social and cultural development of Brussels
The concept of Pedagogical Challenges
Different cases out of the media, analysed through the perspective of Brussels (as urban context)
Language of instruction: English.
Children & Society
• Identity and identity development
• Child images (child in danger, child as danger, commercialised child, the child of our dreams, child as adult, child as a vehicle of rights…)
• Historical evolution of the leisure sector for children
• Pedagogicalization of childhood
• Medaclization of childhood
• Commercialization of childhood
• Sociology of childhood
• Contemporary tendency in childhood
• Basic concepts of pedagogy
• Research: Being in times of becoming

Language of instruction: English.
Multilingualism in urban context
Translanguaging: home languages as a didactical resource: theory and classroom practices
 Multilingual language awareness: monolingual versus multilingual teacher beliefs and implications
Language acquisition (mother tongue, second language) and language stimulation
 Language awareness: theory and practices (early childhood, primary school)
Language passport, talking about language and emotions
Language of instruction: English.
Mathematics 2B: didactics and differentiation
You will learn more about the didactical approach of the following topics:
fractions and decimal numbers
measure/calculate length, volume, ...
STEM
percentages
geometry 
differentiation
ICT (Excel, scratch)
Language of instruction: English
Project Investigative Learning
Active learning' is a project in which you work under supervision in a project team on a practical assignment. You learn what it is like to work together in a team and to achieve goals. You investigate how you can apply the theory in practice.
The central question is how you can design a learning environment where active and inquisitive learning is addressed.
The assignment:
To organise an active learning day in which active learning and language activation are central, starting from the experience of language and leading to learning activities with an eye for diversity.
In a small project team of about 6 students from the same study programme (LKO or LLO).
For a small group of children
For half a day
Consisting of a learning day starting from an experiential activity (story) leading to various learning activities in which one can speak of inquisitive and active learning.
A learning reflection as a substantive processing of the concept of "active learning";
ICT: a photo diary
Photo editing software;
Photo diary software;
Strategies for documenting learning processes through photos;
LANGUAGE SKILLS
Writing a story that gives rise to activities;
Telling a story;
SUPPORTING KNOWLEDGE (knowledge test)
Active learning is characterized by
An educational approach with a high degree of activity, closeness to reality, challenge, variety, initiative, atmosphere, inductive learning and inquiry-based learning;
A learning process that can be recognised by the learner through a high level of concentration, perseverance and determination, at the limit of one's own abilities, full of learning energy from a thorough exploration drive in the zone of immediate development;
A learning effect in which the pupils have fundamentally processed knowledge, have constructed knowledge themselves. We can speak of learning in a higher order;
ATTITUDES
 Self, peer and teacher evaluation of attitudes.


Language of instruction: English.
Learning environments - a brand new school for the city
Let's simulate : You become part of a team of 'school designers' for schools in Brussel'.

In this module, you study international schoolsystems and get first-hand information of educational experts all over the world.
You explore the 6 dimensions of equity in education, to give all learners equal chances.
Apart from practical information about 'how to start a school', you will get examples of innovative schoolarchitecture and tips & tricks to design your own schoolbuilding and playgrounds.

In short : In small teams of international and Belgian students, you will do research, invest, be critical, select and compare information in order to design and present your ideal urban school for the capital. 

Language of instruction: English.
Internship
This internship can only be chosen by Primary Education Students.
During the internship, the student takes the role of pedagogical coach (specific and adapted to the internship context).

The learning outcomes to be achieved are translated into personal internship objectives. Specific internship objectives must be achieved at the end the internship period. The internship goals are described in the internship manual.

The goals are assessed by observation, reflections and assessment interviews. Students writes a reflection report and portfolio during the internship period
Language of instruction: English.