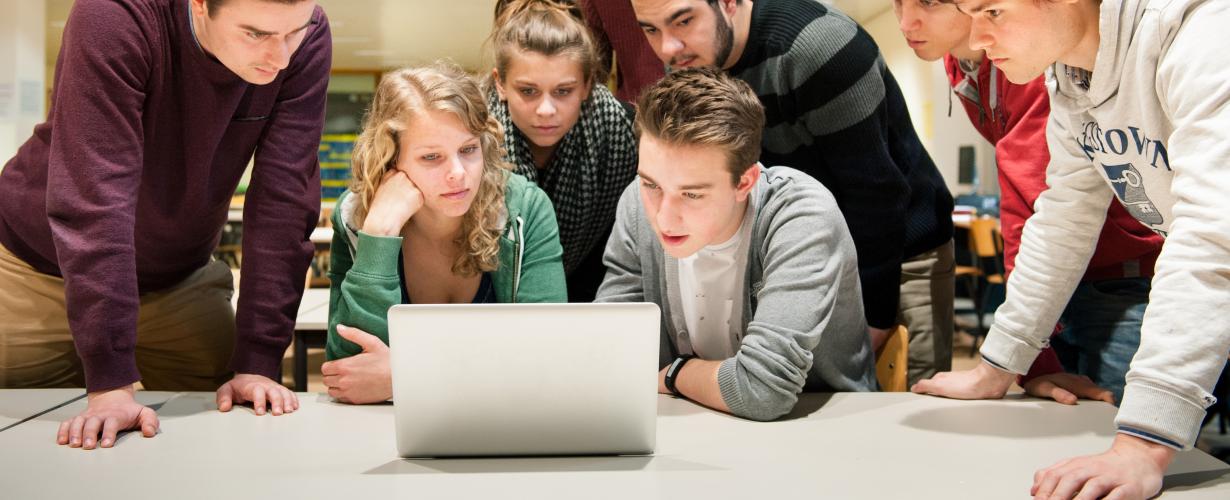 Fall semester: September 20, 2021 – February 4, 2022
EhB Welcome Day: 16 & 17 September 2021
Winter holidays: December 27 - January 7
Examinations: January 10 - February 4
Incoming Erasmus mobility for study during the fall semester only, but students combining study and internship can apply for a full academic year.
COMMUNICATION MANAGEMENT COMPULSARY COURSES
Corporate Communications
There is more to an organization's communication than meets the consumer eye. Numerous other stakeholders are addressed by organizations, all requiring many different techniques and approaches. Corporate communication goes hand in hand with employer branding, …, conversation management and content marketing. In this course you will study the theoretical frameworks needed and learn how to use them in concrete cases.
(Intensive module of 6 weeks)
Language of instruction: English and Dutch for Erabel-students
Communication Tomorrow
Will immersive technologies become part of our daily existence? How might digital assistants – 'Hello, Siri' - influence the job of a Communication Manager tomorrow? And is it even a given that our future will be dominated by such technologies or are there other ways to envision the future of communication? In 'Communication Tomorrow' you will learn about the trends and driving forces shaping the world of communication, explore different possible futures and create communicative solutions to future issues.
(intensive module of 4 weeks).
Language of instruction: English.
Professional English 3
The aim of this course is to hone your English skills professionally. It responds to the professional needs of a Communications Management student. The contents are fully aligned with those of the main subjects in the curriculum. Once you have taken this course, you will find your way in an English-speaking workplace environment.
Language of instruction: English.
Professional Project: the Bureau 3
In this intensive project you will be briefed by a real client on a communication challenge they face. In a team made up of first, second and third year students you will tackle this challenge – coached by a lecturer - as a real communication agency would do: conduct the necessary research, draw conclusions, and based on those formulate a realistic communication plan including budget. As management of your agency you are also responsible for team spirit and planning.
(intensive module of 6 weeks – No re-sit possible!).
Language of instruction: English and Dutch for Erabel-students
COMMUNICATION MANAGEMENT ELECTIVE COURSES
Communication case
In this project you get of freedom of choice. You set your goals yourself in accordance with your Learning Outcomes as a student communication management. You determine:
whom you want to work for
which competences from your learning outcomes you choose to train
how you want to train those competences
and how you to prove the accomplishment of your goals.
On all these points you make an agreement with your tutor before you start your personal project. At the end you give your tutor a presentation (30 minutes) about what you have realised and how you have reached your goals in the process.
Language of instruction: English and Dutch for Erabel-students
Digital Content
Content is King! And since nowadays a lot of communication uses digital channels, digital content is becoming more and more important in the communication mix. In this course, you will get familiar with online content strategy, creation and management. In short, this means you will learn how to decide what to use, how to make it and how to keep everything on track.
Language of instruction: English.
CultuurBXLCulture 3
Cultuur BXL Culture gets you acquainted with the rich cultural variety in Belgium by way of what Brussels has to offer in the cultural field. You familiarize yourself with Brussels' cultural institutions and you improve your cultural knowledge on visual arts and performing arts. You get acquainted with cultural communication and topical cultural subjects and trends.
Depending on the seasonal cultural programme you will visit expositions and performances.

Extra costs: More or less €50 for cultural visits
Language of instruction: English and Dutch for Erabel-students
Survival Dutch
The aim of the "Survival Dutch" course is to master the basics of the Dutch language, both written and spoken. Starting from everyday situations, you will learn the necessary grammar and vocabulary in order to function in a Dutch speaking environment.

We strongly recommend incoming students to participate in the Survival Dutch course, organized prior to the start of the semester:
from September 7th - 17th.

Language of instruction: English and Dutch.
Presentation Skills
With the internationalization of study programs, more and more presentations are given in English. No matter how spectacular a project or its the findings, they only become relevant when they have been shared with others. A project is not finished until the results have been published or presented. In this course, we discuss general presentation techniques - e.g. how to use body language, the voice, and visual aids - and we give tips and hints on how to prepare and structure a presentation.
Language of instruction: English.