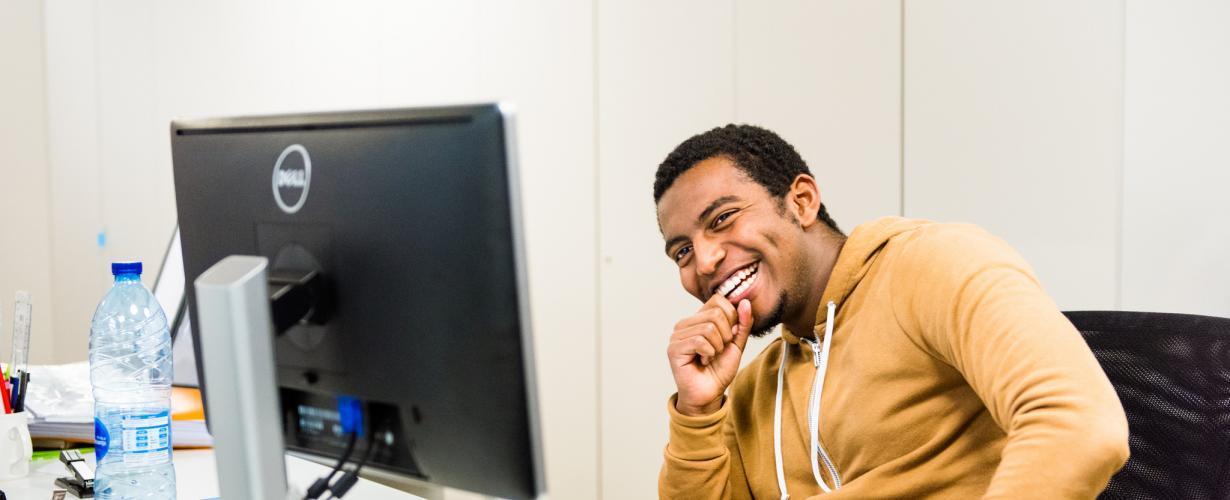 Organisation & Management
Fall semester: September 20, 2021 – February 4, 2022
EhB Welcome Day: 16 & 17 September 2021
Winter holidays: December 27 - January 7
Examinations: January 10 - February 4
Incoming Erasmus mobility for study during the fall semester only, but students combining study and internship can apply for a full academic year.
Incoming Erasmus students can compose a learning agreement from the following subjects from the field of Office Management:
OFFICE MANAGEMENT MANDATORY COURSES
Cross cultural management
In the first part of the course, the focus is on different models of cross-cultural research that can be used when working with the manifestations of cultural differences. These models and their concepts are elaborated by using them to discuss differences between Belgium and other European cultures on the one hand, and between Belgium and African, Asian and Arabic cultures on the other hand. In the second part, the focus is on cultural differences relating to specific management contexts. Successively, we focus on human resources management (hiring, motivation, performance appraisal and feedback, rewarding, career counseling), negotiations, business ethics, conflict resolution and leadership, within the context of international management.

Course materials: Manual: Intercultural Skills for International Business and International Relations (Author: S. Paul Verluyten) + study material on Canvas (online school platform). 
Language of instruction: English.
Project Management: Travel & Event Management
In the first part of the course, the focus is mainly on the topic of Travel Management. What do you need to keep into account when organizing a business trip for your manager (national and international) as well as receiving guests who are on a business trip in your own country (to visit your company).
In the second part, the focus shifts to the topic of Event Management. What are the steps you need to follow to organize an event as well as the sharing of some tips and tricks by event managers who have years of know-how and expertise in the industry.

Course materials: 
Syllabus « Project Management  -Travel & Event Management » by Kathleen Galle

Language of instruction: English
Events and Projects
This concept is a form of project-based problem-driven learning. It is a practical application of the theory that you learn about in the subject 'Project Management: travel & event management'. Based on a case study, in team you will organize an incentive trip, just as you would if you were working for a company. We provide you with a structure (a case study with a number of requirements: see below) and a bibliography. The aim is that you look for the most effective way of carrying out these tasks. Various groups will be working on the same case study for eight weeks. A jury will decide on which incentive trip best meets the set requirements.
Course materials: Syllabus « Events & Projects » by Kathleen Galle

Language of instruction: English, French or Dutch (you choose the working language of the team & coach)
Integrated Facility Management
This course 'Integrated Facility Management' focuses on the study of the measurability of Facility Management. This measurability is becoming increasingly important. We study customer satisfaction, cost analysis, investment policy, budget management, performance management, process management, Total Quality Management, planning and control, and benchmarking of facility services.
The added value provided by Facility Management to the primary business process will also be explored. We tackle the issue of determining who or what makes the assessment of facility management. We start with a stakeholder analysis. The conditions that need to be fulfilled for the realization of added value by facility services are being investigated. The result areas where facility management can realize added value are clearly defined.
Finally, we take a closer look at some current trends and developments in Facility Management.

Course materials: syllabus.

Extra expenses: 
More or less 10€ (for public transport for a company visit)

Language of instruction: English
OFFICE MANAGEMENT ELECTIVE COURSES
Management Support II
Management Support 2 gives you insights in the strategic framework of an organisation and its environmental factors that have an impact on it. We will dig into the structures and different collaborations within a company. We also study different kinds of management styles and methods (f.eg Change Management).
You will also reflect on these models and necessary skills for the future work environment in order to contribute to the organizational goals. An Office Manager understands the impact he has as a person and professional and knows how to change people and resources in order to make the organisation more efficient, competent and sustainable. Besides the importance of "Emotional Intelligence" (EQ), we will discover the impact of your "Adaptability Quotient" (AQ) to develop a professional carrier in a rapidly changing world.   

Language of instruction: Dutch & French (Modules 1 en 3 in French + module 2 in Dutch)
Human Resource Management
Organizations strive to pay more attention to individual talents of the employees in their HRM strategy. A junior Office Manager needs to be aware of the development ambitions of the organization and the availability of its human talents.  Human Resource Management wants to tailor goals of both employer and employees in order to be more (cost-) effective. It aims a good balance between social and economic objectives.
In this course the student becomes familiar with different models of HRM, with a special focus on staff planning, recruitment, selection & assessment, career management, lifelong learning, performance management, rewarding & appreciation, work design, labour relations.
The junior Office Manager will be in a position to communicate effectively with specialists in this domain and will be able to fulfil a job implementing procedures of HRM

Course materials: 
Manual HRM, authors: VAN BEIRENDONCK Lou, CANNAERTS Nele, HENDERICKX Erik, VAN BEIRENDONCK Charlotte (35€)

Language of instruction: Dutch. 
Survival Dutch
The aim of the "Survival Dutch" course is to master the basics of the Dutch language, both written and spoken. Starting from everyday situations, you will learn the necessary grammar and vocabulary in order to function in a Dutch speaking environment.

We strongly recommend incoming students to participate in the Survival Dutch course, organized prior to the start of the semester:
from September 7th - 17th.

Language of instruction: English and Dutch
English professional communication
You follow the GPC 3 English classes in the first semester. In these classes, several professional themes will be tackled (such as organizing a teambuilding day.) As a group of 4 students you will work together to come up with a concept for a teambuilding day with the whole class. At the end of November you will pitch this concept to a jury who will decide which group has won the assignment. The winning group will finalize its concept an organize the actual teambuilding day. In December you will participate in this teambuilding day together with your fellow classmates and some of your lecturers.

Course materials: 
Provided material on learning platform

Language of instruction: English
Presentation Skills
With the internationalization of study programs, more and more presentations are given in English.
No matter how spectacular a project or its the findings, they only become relevant when they have been shared with others.
A project is not finished until the results have been published or presented.
In this course, we discuss general presentation techniques - e.g. how to use body language, the voice, and visual aids - and we give tips and hints on how to prepare and structure a presentation.

Language of instruction: English.
Introduction Project Brussels
In this immersive project you will get to know more about Brussels, its historical development, the main tourist attractions and how these play a role in the tourist industry. During this project, which will take place in the first week of the academic year, you will get practical assignments about the tourism, recreational & cultural sectors in Brussels. The program contains visits to museums, the viewing of documentaries,  a biking tour and a visit to a Unesco World Heritage site. A month after this immersion a written exam will follow based on texts from a reader.

Course materials: 
Syllabus.

Extra expenses:
70€ for entrance fees and bike tour.

Language of instruction: English.
Digital Content
Content is King! And since nowadays a lot of communication uses digital channels, digital content is becoming more and more important in the communication mix. In this course, you will get familiar with online content strategy, creation and management. In short, this means you will learn how to decide what to use, how to make it and how to keep everything on track.

Language of instruction: English.
CultuurBXLCulture 3
Cultuur BXL Culture gets you acquainted with the rich cultural variety in Belgium by way of what Brussels has to offer in the cultural field.
You familiarize yourself with Brussels' cultural institutions and you improve your cultural knowledge on visual arts and performing arts. You get acquainted with cultural communication and topical cultural subjects and trends.
Depending on the seasonal cultural programme you will visit expositions and performances.

Extra expenses: 
More or less €50 for cultural visits.

Language of instruction: English and Dutch for Erabel-students