Organ­i­sa­tion and Management
Organisation and Management for exchange students
Exchange students are hosted in various courses within our BA degrees of Organisation and Management. You take your courses together with Belgian students in an all-round programme with broad practical experience in the cosmopolitan context of Brussels and beyond. You will be given every opportunity to discover and valorise your strengths. A passionate team of teachers will coach you to shape your programme in a personal way.
Erasmus + exchange in Organisation & Management 
We are happy to invite students from partner universities to do an Erasmus + exchange programme in Organisation & Management during the fall semester  !
For more information on the specific courses offered for this exchange programme, please consult the courses and credits below. Make sure to verifiy the language requirements for the different courses since some are taught in English while others are only taught in Dutch.
Programme timing 
Fall semester: September 18, 2023 – February 2, 2024 
Survival Dutch(*): September 4 - September 14, 2023
EhB Welcome Days: September 14 and 15, 2023 
Fall holidays: October 30 – November 5, 2023 
Winter holidays: December 25, 2023 - January 7, 2024
Exam period: January 8 - February 2, 2024
(*) We strongly recommend students coming in the fall semester to participate in the Survival Dutch course.
Cross cultural management
In the first part of the course, the focus is on different models of cross-cultural research that can be used when working with the manifestations of cultural differences. These models and their concepts are elaborated by using them to discuss differences between Belgium and other European cultures on the one hand, and between Belgium and African, Asian and Arabic cultures on the other hand. In the second part, the focus is on cultural differences relating to specific management contexts. Successively, we focus on human resources management (hiring, motivation, performance appraisal and feedback, rewarding, career counseling), negotiations, business ethics, conflict resolution and leadership, within the context of international management.

Course materials: Manual: Intercultural Skills for International Business and International Relations (Author: S. Paul Verluyten) + study material on Canvas (online school platform). 
Language of instruction: English.
Project Management: Travel and Event Management
In the first part of the course, the focus is mainly on the topic of Travel Management. What do you need to keep into account when organizing a business trip for your manager (national and international) as well as receiving guests who are on a business trip in your own country (to visit your company).
In the second part, the focus shifts to the topic of Event Management. What are the steps you need to follow to organize an event as well as the sharing of some tips and tricks by event managers who have years of know-how and expertise in the industry.

Course materials: 
Syllabus « Project Management  -Travel & Event Management » by Kathleen Galle

Language of instruction: English
Project: Travel (business trip)
This concept is a form of project-based problem-driven learning. It is a practical application of the theory that you learn about in the subject 'Project Management: travel & event management'. Based on a case study, in team you will organize an incentive trip, just as you would if you were working for a company. We provide you with a structure (a case study with a number of requirements: see below) and a bibliography. The aim is that you look for the most effective way of carrying out these tasks. Various groups will be working on the same case study for eight weeks. A jury will decide on which incentive trip best meets the set requirements.
Course materials: Syllabus 

Language of instruction: English
Integrated Facility Management
The course 'Integrated Facility Management' focuses on the study of the measurability of Facility Management. This measurability is becoming increasingly important. We study customer satisfaction, cost analysis, investment policy, budget management, performance management, process management, Total Quality Management, planning and control, and benchmarking of facility services.
The added value provided by Facility Management to the primary business process will also be explored. We tackle the issue of determining who or what makes the assessment of facility management. We start with a stakeholder analysis. The conditions that need to be fulfilled for the realization of added value by facility services are being investigated. The result areas where facility management can realize added value are clearly defined.
Finally, we take a closer look at some current trends and developments in Facility Management.

Course materials: syllabus.

Extra expenses: 
More or less 10€ (for public transport for a company visit)

Language of instruction: English
Management Support II
Management Support 2 gives you insights in the strategic framework of an organisation and its environmental factors that have an impact on it. We will dig into the structures and different collaborations within a company. We also study different kinds of management styles and methods (e.g. Change Management).
You will also reflect on these models and necessary skills for the future work environment in order to contribute to the organizational goals. An Office Manager understands the impact he has as a person and professional and knows how to change people and resources in order to make the organisation more efficient, competent and sustainable. Besides the importance of "Emotional Intelligence" (EQ), we will discover the impact of your "Adaptability Quotient" (AQ) to develop a professional carrier in a rapidly changing world.   

Language of instruction: Dutch & French (Modules 1 en 3 in French + module 2 in Dutch)
Human Resource Management
Organizations strive to pay more attention to individual talents of the employees in their HRM strategy. A junior Office Manager needs to be aware of the development ambitions of the organization and the availability of its human talents.  Human Resource Management wants to tailor goals of both employer and employees in order to be more (cost-) effective. It aims a good balance between social and economic objectives.
In this course the student becomes familiar with different models of HRM, with a special focus on staff planning, recruitment, selection & assessment, career management, lifelong learning, performance management, rewarding & appreciation, work design, labour relations.
The junior Office Manager will be in a position to communicate effectively with specialists in this domain and will be able to fulfil a job implementing procedures of HRM

Course materials: 
Manual HRM, authors: VAN BEIRENDONCK Lou, CANNAERTS Nele, HENDERICKX Erik, VAN BEIRENDONCK Charlotte (35€)

Language of instruction: Dutch. 
Survival Dutch
The aim of the "Survival Dutch" course is to master the basics of the Dutch language, both written and spoken. Starting from everyday situations, you will learn the necessary grammar and vocabulary in order to function in a Dutch speaking environment.

We strongly recommend incoming students to participate in the Survival Dutch course, organized prior to the start of the semester: from September 4th - 14th.

Language of instruction: English and Dutch
English professional communication
You follow the GPC 3 English classes in the first semester. In these classes, several professional themes will be tackled (such as organizing a teambuilding day.) As a group of 4 students you will work together to come up with a concept for a teambuilding day with the whole class. At the end of November you will pitch this concept to a jury who will decide which group has won the assignment. The winning group will finalize its concept an organize the actual teambuilding day. In December you will participate in this teambuilding day together with your fellow classmates and some of your lecturers.

Course materials: 
Provided material on learning platform

Language of instruction: English
Presentation Skills
With the internationalization of study programs, more and more presentations are given in English.
No matter how spectacular a project or its the findings, they only become relevant when they have been shared with others.
A project is not finished until the results have been published or presented.
In this course, we discuss general presentation techniques - e.g. how to use body language, the voice, and visual aids - and we give tips and hints on how to prepare and structure a presentation.

Language of instruction: English.
Digital Content
Content is King! And since nowadays a lot of communication uses digital channels, digital content is becoming more and more important in the communication mix. In this course, you will get familiar with online content strategy, creation and management. In short, this means you will learn how to decide what to use, how to make it and how to keep everything on track.

Language of instruction: English.
CultuurBXLCulture 3
Cultuur BXL Culture gets you acquainted with the rich cultural variety in Belgium by way of what Brussels has to offer in the cultural field.
You familiarize yourself with Brussels' cultural institutions and you improve your cultural knowledge on visual arts and performing arts. You get acquainted with cultural communication and topical cultural subjects and trends.
Depending on the seasonal cultural programme you will visit expositions and performances.

Extra expenses: 
More or less €50 for cultural visits.

Language of instruction: English and Dutch for Erabel-students
Futures Studies
How does one orient itself towards the future -or should we say futures-, in an ever-changing world? Through participation in a hands-on futures research project related to your area of expertise, you will gain a better understanding on how to navigate future worlds.  Together we will learn how to give meaning to the many changes unfolding around us and empower you to actively co-create more sustainable futures for all.
At the end of the course you will understand the relevance of futures research for your specific work context and have gained a 'futures literacy' skillset which allows you to think about the future in a more rich, resilient, systemic and creative way.
Evaluation: Portfolio
Language of instruction: English 
Navigating the world of AI
Artificial Intelligence or AI is a buzzword today and remains a concept poorly understood, vague, and often approached with fear of the unknown or with false hopes about what can be achieved. The course "Navigating the world of Artificial Intelligence" aims to introduce non-IT students to some of the basic concepts, principles, and techniques that fall under the umbrella term AI and offers a more nuanced understanding on the topic. This course is specifically designed for students with no technical background. This is not a coding course! Instead this is an introductory course that enables students to think critically, creatively and ethically about the implementation of AI technology.
Through exercises, you will be encouraged to investigate the general impact of AI in your own field to then further conceptualize what that could mean for a specific organization within your field. The students are guided through these exercises via online course material and regular discussions with peers.
Campus Bloemenhof & Kanal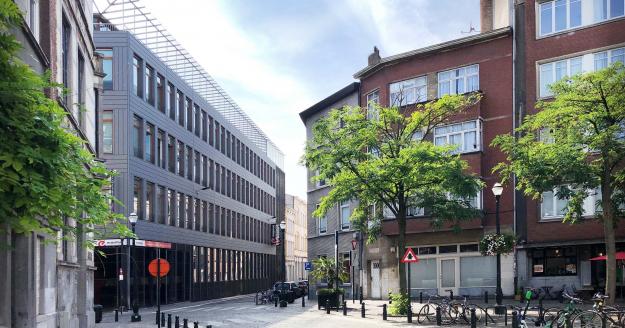 Campus Bloemenhof
Courses for this programme can be held at both the Bloemenhof campus and the Kanal campus.
Campus Bloemenhof is located in the city centre of Brussels. It is on the charming Bloemenhofplein, near the Dansaert district. The square looks particularly picturesque and dates back to the Middle Ages (Zespenningenstraat used to be one of the city gates where tolls were collected).
The biggest asset of this campus: the large roof terrace where you can have lunch and enjoy the beautiful view. It is rightly the showpiece of this campus. The city centre with its shops, restaurants and historic buildings is within walking distance.
Address
Zespenningenstraat 70
1000 Brussels
Find the Campus on Google Maps.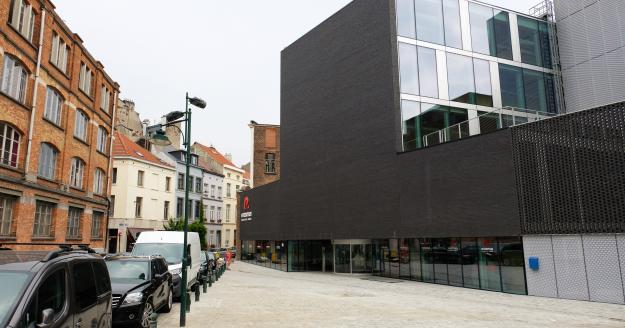 Campus Kanal
Courses for this programme can be held at both the Bloemenhof campus and the Kanal campus.
Campus Kanal is centrally located and easily accessible by bus, train, metro and bicycle. Located near the canal and in the Dansaert district, this campus is part of one of the hippest neighbourhoods in Brussels. On this new campus, we are committed to working closely with the neighbourhood, both in terms of lunch spots for students and activities with the surrounding schools. 
Campus Kanal is an environment where learning can take place in a variety of locations, at a variety of times and in a variety of forms. In the building you will find modular classrooms, practical classrooms (e.g. a hair and beauty salon), an outdoor classroom and learning spaces where students and teachers can plan (in)formal learning moments.
Address
Slotstraat 28
1000 Brussel
Find the Campus on Google Maps.
Study costs are covered by the Erasmus+ Study agreement.
Additional costs are limited and are clearly mentioned on the course descriptions.
How to apply
1. Preliminary steps at your home institution
Your home institution needs to have an inter-institutional agreement with Erasmus Brussels University of Applied Sciences and Arts. Check if this is the case by consulting with your home insititution or directly on the Mobility Online platform.
Follow the application process at your home institution in order to be nominated as a participant of the Erasmus+ program.
A B2 CEFR reference level in English is required. Check with your home institution and verify that you have reached this level.
2. Registering with EhB  
3. Completing the Learning Agreement Before in Mobility Online
Contact the Academic Erasmus coordinator of this course (contact details are on the bottom of this page) to define your academic exchange programme.
Write the details down in the Learning Agreement Before (in Mobility Online). Upload your Learning Agreement Before at least 1 month before the start of your exchange. 
Contact
Address
Erasmushogeschool Brussel
Campus Bloemenhof
Zespenningenstraat 70, 1000 Brussels
Campus Kanal
Slotstraat 28, 1000 Brussel