Midwifery for exchange students
In our midwifery education programme, we train our students to become critical, competent midwives who are socially engaged. Our students learn to take an advocacy role for the mother, the newborn, their family and their surrounding network by offering quality and personalised care. Within an international and evidence-based mindset, we prepare our future midwives for the profession in a complex reality.
The focus of the programme is promoting physiology, woman-centred care and developing a correct professional identity within a dynamic, metropolitan and international context.
Erasmus + exchange in Midwifery 
We are happy to invite you to do an internship combined with 1 course in Midwifery, through the Erasmus+ exchange programme! We welcome a maximum of 2 to 3 students per year.
For more information on the specifics of the internships and the courses, please consult the courses and credits below. 
Programme timing 
Fall semester: September 18, 2023 – February 2, 2024 
Survival Dutch(*): September 4 - September 14, 2023
EhB Welcome Days: September 14 and 15, 2023 
Fall holidays: October 30 – November 5, 2023 
Winter holidays: December 25, 2023 - January 7, 2024
Exam period: January 8 - February 2, 2024
(*) We strongly recommend students coming in the fall semester to participate in the Survival Dutch course.
Spring semester: February 12 – June 28, 2024
Welcome Day: February 9, 2024
Course period: February 12 - May 31, 2024
Spring holidays: April 1 – April 14, 2024 
Exam period: June 03 - June 28, 2024
Midwifery in an international and intercultural context (8 weeks)
Foreign traineeship delivery and maternity ward, intensive neonatal service, service for fertility treatment, prenatal consultation and counselling, services for prenatal diagnosis and/or high risk pregnancy.

Language of instruction: Dutch and/or English
Survival Dutch
The aim of the "Survival Dutch" course is to master the basics of the Dutch language, both written and spoken. Starting from everyday situations, you will learn the necessary grammar and vocabulary in order to function in a Dutch speaking environment.

We strongly recommend incoming students to participate in the Survival Dutch course, organized prior to the start of the semester:
from September 4th - 14th.
Brussels Health Campus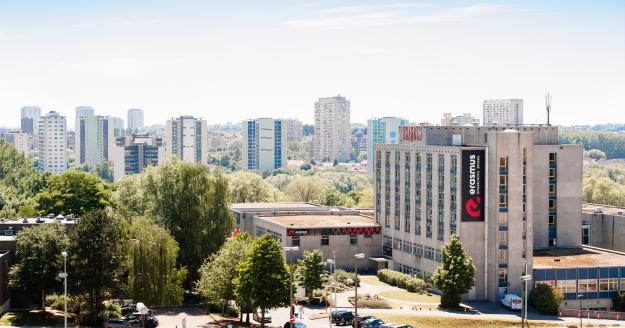 Brussels Health Campus
Brussels Health Campus is located in Jette in the green outskirts of Brussels. We work closely with UZ Brussel and Vrije Universiteit Brussel, which are all located on the same campus. The campus belongs to the medical world top and is an expertise centre in Belgium. 
You can easily reach our campus by public transport. 
Address
Laarbeeklaan 121
1090 Jette
Find the Campus on Google Maps.
Study costs are covered by the Erasmus+ Study agreement.
Additional costs are limited and are clearly mentioned on the course descriptions.
1. Preliminary steps at your home institution
Your home institution needs to have an inter-institutional agreement with Erasmus Brussels University of Applied Sciences and Arts. Check if this is the case by consulting with your home insititution or directly on the Mobility Online platform.
Follow the application process at your home institution in order to be nominated as a participant of the Erasmus+ program.
A B2 CEFR reference level in English is required. Check with your home institution and verify that you have reached this level.
2. Registering with EhB  
3. Completing the Learning Agreement Before in Mobility Online
Contact the Academic Erasmus coordinator of this course (contact details are on the bottom of this page) to define your academic exchange programme.
Write the details down in the Learning Agreement Before (in Mobility Online). Upload your Learning Agreement Before at least 1 month before the start of your exchange. 
Contact
Address
Erasmushogeschool Brussel
Brussels Health Campus
Laarbeeklaan 121, 1090 Jette