Journalism for exchange students
The underlying teaching philosophy in Journalism at EhB is geared towards empowering students as individuals while acquiring strategic, creative and management skills. The programme has a broad general scope on its field of study, thus preparing students to work in various types of organizations. Teamwork, problem based case studies, real company briefings and various work placements are essential to these programs. Our graduates are quickly employed upon graduation.
Erasmus + exchange in Journalism 
We are happy to invite students from partner universities to do an Erasmus + exchange programme in Journalism during the fall semester  !
For more information on the specific courses offered for this exchange programme, please consult the courses and credits below. 
Programme timing 
Fall semester: September 18, 2023 – February 2, 2024 
Survival Dutch(*): September 4 - September 14, 2023
EhB Welcome Days: September 14 and 15, 2023 
Fall holidays: October 30 – November 5, 2023 
Winter holidays: December 25, 2023 - January 7, 2024
Exam period: January 8 - February 2, 2024
(*) We strongly recommend students coming in the fall semester to participate in the Survival Dutch course.
Special European correspondent in Brussels
Affairs Integrated hands on journalism project, in which student-editors create their own multimedia newsroom and produce high quality journalistic print, online, radio and television products. During the three months span of this project the participating student-journalists will be coached by a team of  experienced journalists and editors-in-chief. Approved material will be published on the school's news platforms and thus forwarded to national and international media partners.
The incoming student acts as a special European correspondent in Brussels for his/her home country, whose job it is to report on a daily basis about Brussels, Belgium and Europe. Apart from the school related assignments students are prompted to initiate journalistic activities and/or generate various journalistic products of their own choice. This allows them to specialize and profile in medium and content.
In a separate one-week activity-course incoming students are submerged in the fascinating hustle and bustle of Brussels, capital of Belgium and gateway to Europe (see 'Introductory course to Bussels', 3 credits). Furthermore they discover the French speaking part of Belgium with a 3 day exploration (Charleroi, Namur, Liege ...) resulting in a range of multimedia journalistic products on an individual basis, using their smartphones as a means of recording, processing and transmitting.
The separate 3 credits-course 'European framework and roots' will provide profound knowledge and understanding of different EU institutions,  and the diversity of EU policy-making across a range of policy domains. As special European correspondents for their home countries this will help students identify predominant EU-related patterns, characteristic styles and trends, and other issues that are likely to turn op in their reporting, such as the tensions due to enlargement, the gap between an intergovernmental and supra national approach and the question how to organize the cooperation between the EU  countries.
Students will produce and publish multimedia content in our newsrooms and studio's on campus, but will also submerge in the Brussels European district (EU parliament, EU commission, Press Rooms, Midday Briefings, …) and seek to co-operate with (one of) the actual European correspondents in Brussels.
Language of instruction: English
Presentation Skills
This course is taught by a former journalist/TV-presenter and partly takes place in an audiovisual studio. The book 'Presentation Techniques' by Van der Laan provides a theoretical basis. As a group; we visit Belgian television and several tv-productions.

Language of instruction: English
Framework and roots
According to some studies 80 per cent of the EU member states' socio-economic legislation is shaped by the EU. In this course we bring the students up to date with a range of core policy challenges facing the European Union, and the ways in which they are being addressed. This course is not about how the EU functions but what it tries to achieve by its different policies. The aim is to provide a detailed picture of the diversity of EU policy-making across a range of policy domains, to identify predominant patterns, and characteristic styles and trends over time.
An historical overview of the birth and grow of the Union will help to understand the problems of this institution. The course will tackle the tensions due to enlargement, the gap between an intergovernmental and supra national approach and the question how to organize the cooperation between the EU  countries.  An overview of the different EU institutions will be completed with a visit at the EU parliament and the EU commission.

Language of instruction: English
Survival Dutch
The aim of the "Survival Dutch" course is to master the basics of the Dutch language, both written and spoken. Starting from everyday situations, you will learn the necessary grammar and vocabulary in order to function in a Dutch speaking environment.

We strongly recommend incoming students to participate in the Survival Dutch course, organized prior to the start of the semester: from September 4th - 14th.

Languages of instruction: English and Dutch
Current News
Students will have to prove that they keep track of current national and international mediatized news events, particularly those related to the European Union. Reading newspapers and magazines, following news broadcasts on television, radio and online they gradually increase their political, social, economic and cultural stock-in trade.  Students will discuss these events and their journalistic background on a monthly bases with a jury of journalists/lecturers Current Affairs.

Language of instruction: English and Dutch
Cross Cultural Management
This course is taught to an international class (international and Belgian students). Its purpose is to create and sharpen intercultural sensitivity, learn to understand the impact on an international management context, become interculturally competent.

Language of instruction: English
International Experience
More information coming soon!
Navigating the world of AI
Artificial Intelligence or AI is a buzzword today and remains a concept poorly understood, vague, and often approached with fear of the unknown or with false hopes about what can be achieved. The course "Navigating the world of Artificial Intelligence" aims to introduce non-IT students to some of the basic concepts, principles, and techniques that fall under the umbrella term AI and offers a more nuanced understanding on the topic. This course is specifically designed for students with no technical background. This is not a coding course! Instead this is an introductory course that enables students to think critically, creatively and ethically about the implementation of AI technology.
Through exercises, you will be encouraged to investigate the general impact of AI in your own field to then further conceptualize what that could mean for a specific organization within your field. The students are guided through these exercises via online course material and regular discussions with peers.
Campus Bloemenhof & Kanal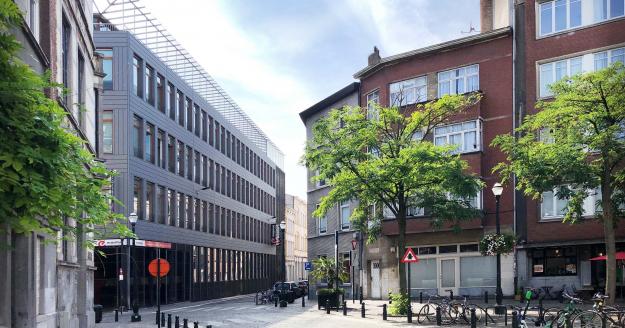 Campus Bloemenhof
Courses for this programme can be held at both the Bloemenhof campus and the Kanal campus.
Campus Bloemenhof is located in the city centre of Brussels. It is on the charming Bloemenhofplein, near the Dansaert district. The square looks particularly picturesque and dates back to the Middle Ages (Zespenningenstraat used to be one of the city gates where tolls were collected).
The biggest asset of this campus: the large roof terrace where you can have lunch and enjoy the beautiful view. It is rightly the showpiece of this campus. The city centre with its shops, restaurants and historic buildings is within walking distance.
Address
Zespenningenstraat 70
1000 Brussels
Find the Campus on Google Maps.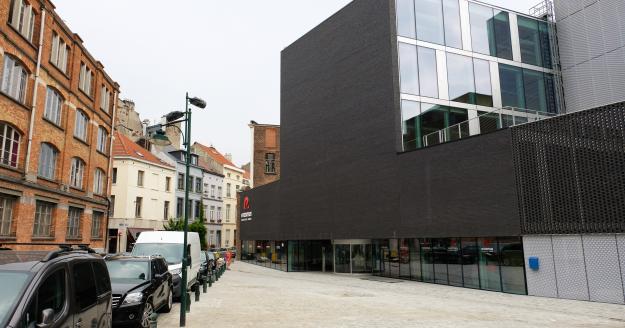 Campus Kanal
Courses for this programme can be held at both the Bloemenhof campus and the Kanal campus.
Campus Kanal is centrally located and easily accessible by bus, train, metro and bicycle. Located near the canal and in the Dansaert district, this campus is part of one of the hippest neighbourhoods in Brussels. On this new campus, we are committed to working closely with the neighbourhood, both in terms of lunch spots for students and activities with the surrounding schools. 
Campus Kanal is an environment where learning can take place in a variety of locations, at a variety of times and in a variety of forms. In the building you will find modular classrooms, practical classrooms (e.g. a hair and beauty salon), an outdoor classroom and learning spaces where students and teachers can plan (in)formal learning moments.
Address
Slotstraat 28
1000 Brussel
Find the Campus on Google Maps.
Study costs are covered by the Erasmus+ Study agreement.
Additional costs are limited and are clearly mentioned on the course descriptions.
How to apply
1. Preliminary steps at your home institution
Your home institution needs to have an inter-institutional agreement with Erasmus Brussels University of Applied Sciences and Arts. Check if this is the case by consulting with your home insititution or directly on the Mobility Online platform.
Follow the application process at your home institution in order to be nominated as a participant of the Erasmus+ program.
A B2 CEFR reference level in English is required. Check with your home institution and verify that you have reached this level.
2. Registering with EhB  
3. Completing the Learning Agreement Before in Mobility Online
Contact the Academic Erasmus coordinator of this course (contact details are on the bottom of this page) to define your academic exchange programme.
Write the details down in the Learning Agreement Before (in Mobility Online). Upload your Learning Agreement Before at least 1 month before the start of your exchange. 
Contact
Address
Erasmushogeschool Brussel
Campus Bloemenhof
Zespenningenstraat 70, 1000 Brussels
Campus Kanal
Slotstraat 28, 1000 Brussel