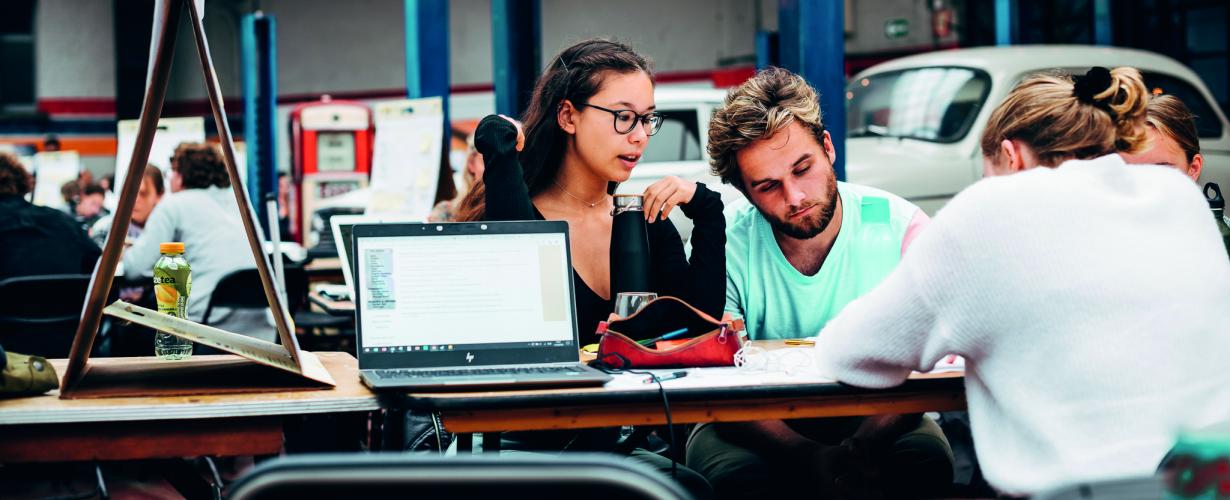 Idea and Innovation Management
All compagnies are looking for these profiles
All companies, large and small, are looking for people who can see, develop and implement ideas. You cannot learn the mindset early enough to do that successfully. This course is simply... the best idea!
 
Group Director Business Development, Marketing & Innovation at Mensura
What makes the programme special is the freedom (in thinking and doing) and lecturers who are very close to the students. But the students also have a kind of coherent vision of life: don't look black and white, but rather see all the colours of the rainbow!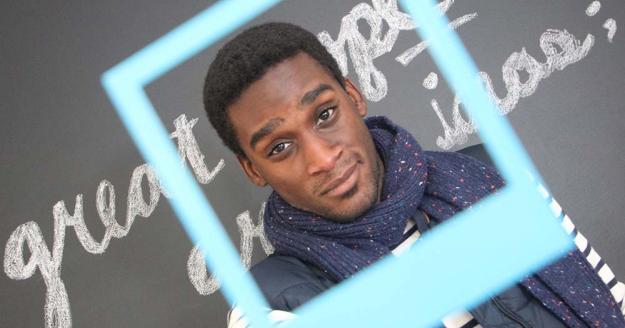 Idea & Innovation Management was a door that opened for me. I didn't really find anything among the "normal" training offerings that I thought "This is really something for me". Innovation is what the world needs. I can recommend this programme to anyone who wants to get the best out of themselves".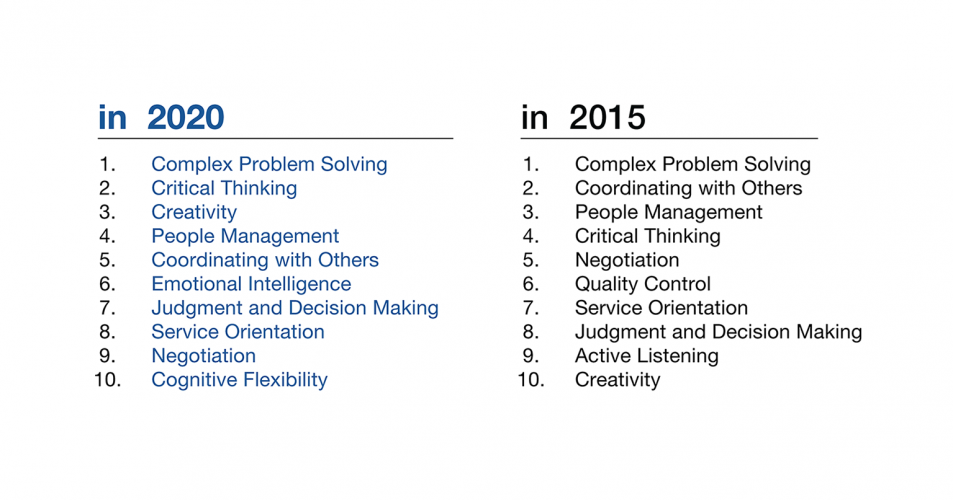 A formidable boot camp during your first week
Because we believe that relationships between people is the basis of everything, you will spend three days at bootcamp in the first week of class. We think it goes without saying that students get to know each other well. In this way everyone quickly feels at home in the course, friendships develop naturally and the class group becomes a close-knit group. With all the group work that follows, this is no superfluous luxury. You get to work together intensively, unconventionally and creatively. You get to know each other and your teachers in the most ideal way. You get to work on a few concrete assignments inside and outside the school walls. You will discover everything about our approach: coaching, personal, plenty of room for feedback in the learning process and during assignments.
How does the rest of the year go?
You follow lessons that are combined with workshops. You work on projects for a client in the field. You get a solid foundation in lectures, but only where necessary. In the second year, you will be given an assignment in almost every discipline. Some subjects are taught for a whole year, others are dealt with in one semester. In courses such as Project Management, Innovation Management, Business Case, Financial Planning and Innovation Case out of personal commitment, you work on a real project and are supervised by coaches.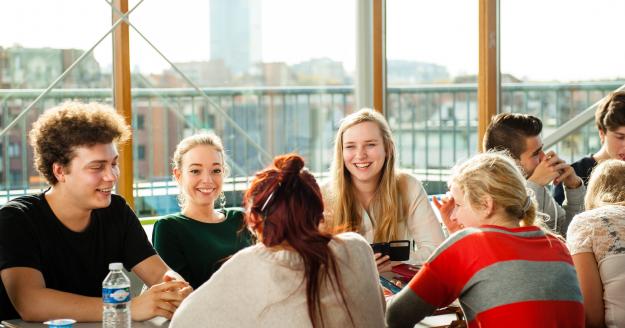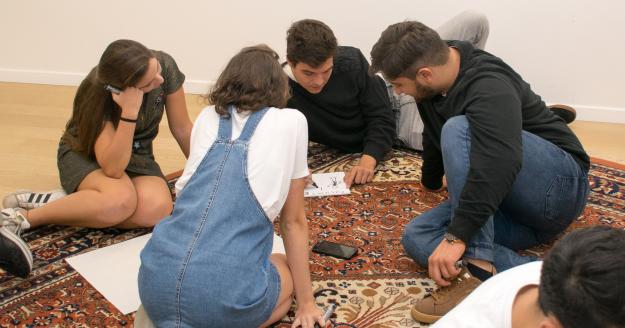 4 pillars
Creativity
What happens when you combine solution-focused thinking, thinking differently and creative thinking? Then you get fireworks. Real creativity.
You develop your own creativity and learn how to develop it in others. The specific creativity techniques and their thorough application in other subjects will ensure this.
Innovation
Innovation is only possible with an open mind. With a 360° vision of continuous change. That is also the vision you learn in your training. The vision you develop along with every subject you are offered. The vision that you develop from your new insights and attitudes, but before.
Entrepreneurship
Our training is firmly rooted in the business world. The lecturers work there as experts and get the best insights about 'life as it is' in organisations. Their insights form the essence of the subjects. They teach you to think like an entrepreneur: sharp, with vision and goal-oriented.
People Skills
People Skills are the glue between creativity, innovation and entrepreneurship. You train skills and attitudes that give you insight into yourself and others. In this way you learn to assess situations better. This enables you to make projects and group work run optimally. You start from the specific talents of each individual and search together for the ideal division of roles that is necessary for the realisation.
What's considered normal, goes partly into the dustbin
I hear from friends who sit in their auditoriums that it is all very ordinary and boring and the professor keeps on explaining. IIM is different. IIM throws part of the normal into the dustbin and also takes the unusual out of the student. Something that the student also finds deep inside. It is a special, but very fine and pleasant direction.
Student Idea & Innovation Management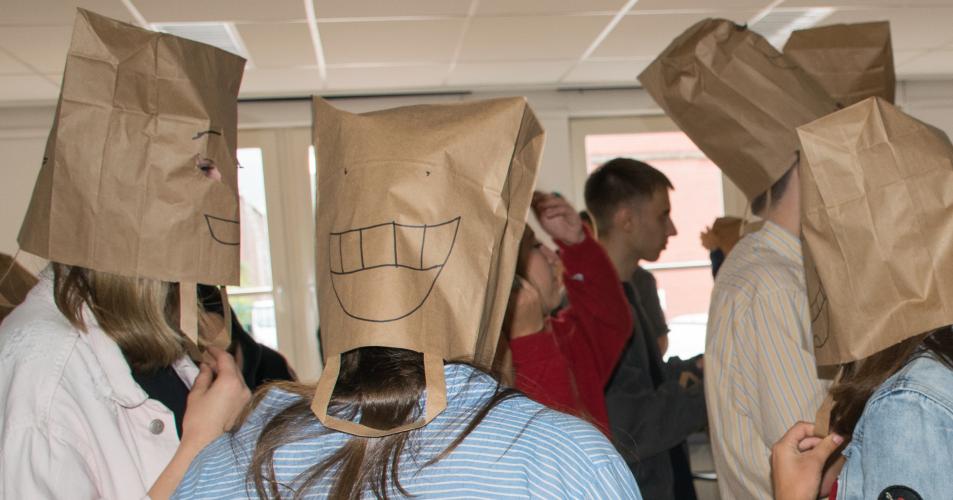 The Innovation Case out of personal commitment is the final piece of the programme and is the last project in which you and one or two colleagues use your acquired insights and competences. In the third sub-programme, you choose a project together with your coordinator and an external client, who you bring in yourself, on which you will work for a large part of the year. The Innovation Case is the ultimate opportunity to show yourself and your lecturers how good you have become.
Together with your teammates, you work autonomously on a project in which you find your passion. During the project you will be coached by teachers who will help you where necessary, during helpdesks. Students who want to realise an innovative product or service during their studies, can count on our support at the start of their own company, and will also have their graduation project to deal with right away. Because a more demanding assignment awaits them, they start realising it as early as in the 2nd year of their studies.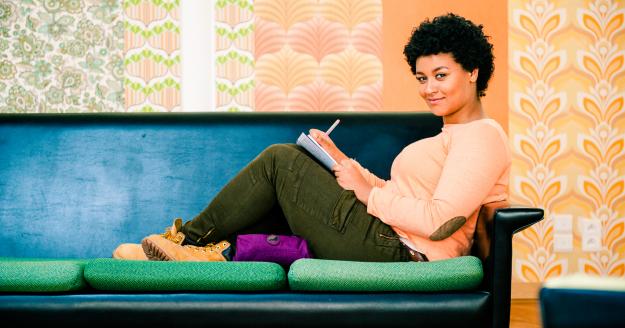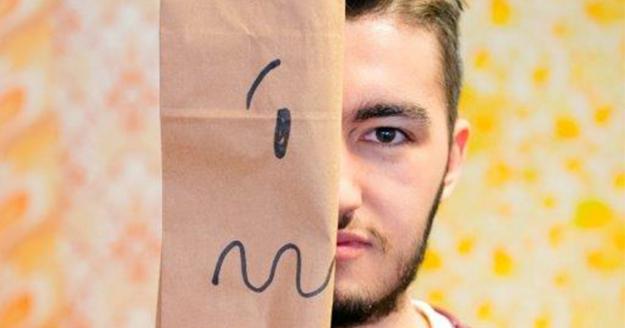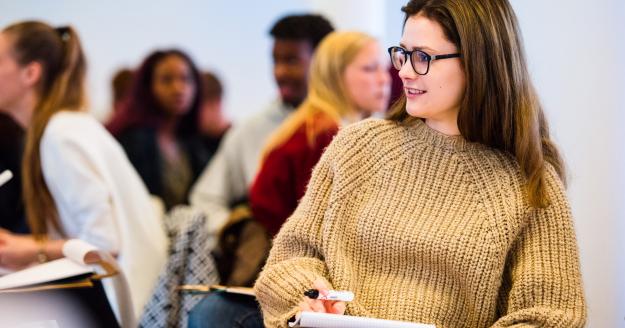 Je bent afgestudeerd. Wat nu?
Where can you start
In many companies today there is no ready-made position as Junior Idea & Innovation Manager. This is because innovative entrepreneurship is often still at an early stage. Seniors can use junior professionals like you who are eager to learn. All the more reason to be ready for the future and to join your career as Junior Idea & Innovation Manager:
small and large companies
multinationals
non-profit organizations
start-ups
innovation-oriented service companies (Flanders DC, Social Innovation Factory, innovation centres, design agencies, ...).
governements
federations and unions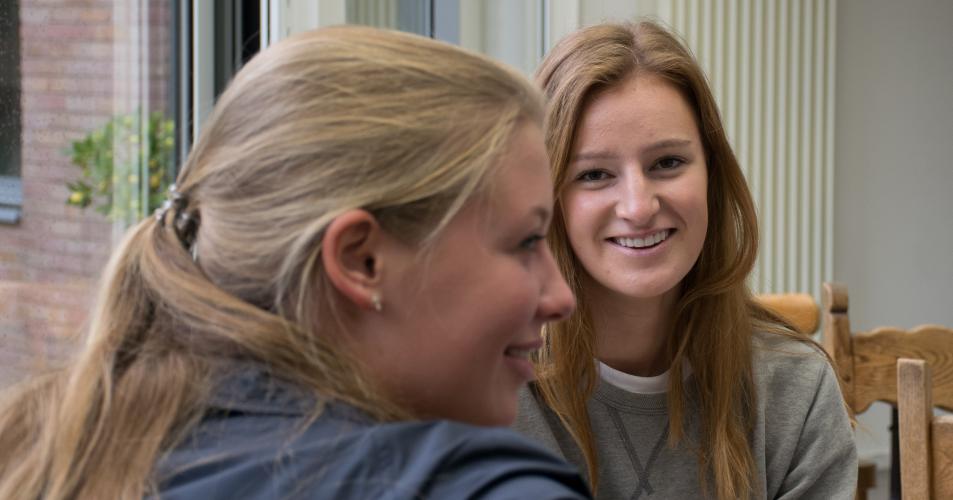 What can you do?
As an Idea & Innovation Manager, you will work on sustainable market and society-driven innovations and business. You are the ideal employee to help start up, facilitate and implement innovation projects. You will help translate innovation processes into successful new products, services, concepts and strategies from three roles:
You are a screener: you look for trends, opportunities and needs both within and outside the organisation or company.
You are an innovation facilitator: you create the conditions and guide the process from idea initiation to the development of a real innovation that creates sustainable value for the organisation.
You are a bridge builder: you network and bring together parties from different contexts, disciplines and sectors to develop innovative synergies.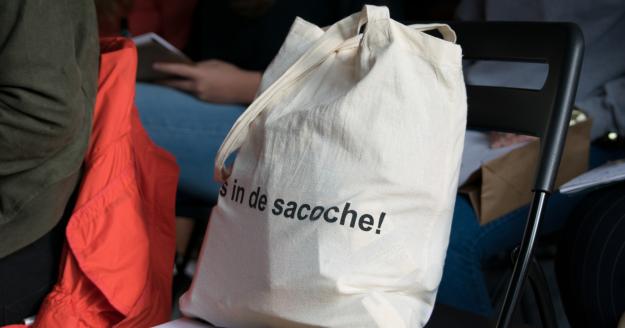 Your strenghts
your broad vision of society
your ability to approach a problem or situation from new and different angles
your ability to help shape social and societal challenges for the future
your practice-oriented knowledge and approach.
These assets and your drive and commitment make you perfectly employable in business.
Why companies support Idea & Innovation Management
We need young people who look at organisations and people from a different perspective and who are ready to help make the change happen. - Nele Vandenbroeck, Corporate Marketing market research and trend watching, Colruytgroup
Because this training gives opportunities to people who respect the whys and wherefores of my company and at the same time fundamentally question them. Because it makes young people strong in doing what they cannot resist. And because this training strengthens young potentials in their entrepreneurship through personal growth and development. - Tim Demeyer, Organisational Development, Colruyt Group 
Because there is a need for Young Evangelists who, with a fresh look and knowledge, can assist the - often slightly older - decision makers on the bumpy road of innovation. - Jo Nachtergaele, StudiJo50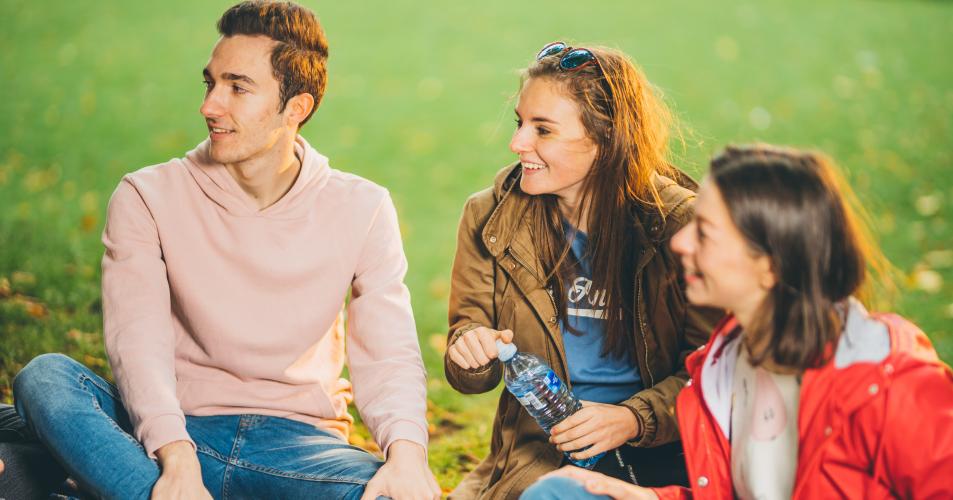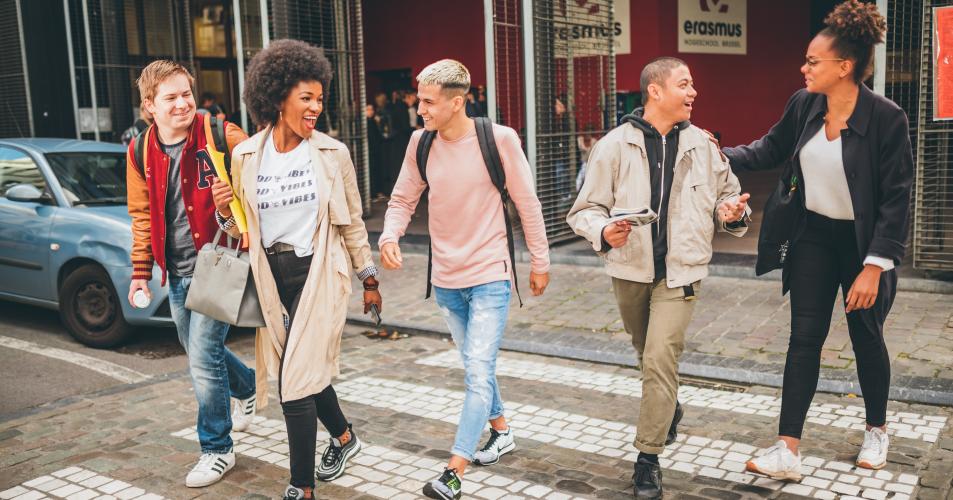 People sometimes say 'Brussels is not a city, it is a mentality'. Brussels is the city for a future Idea & Innovation Manager: open to different worldviews, for cultural inspiration, for the new. Brussels is the meeting place where inspiring people get to know each other. Where new habits are discovered faster than elsewhere. Where your choice of activities seems endless. That's why Brussels is also the largest student city in the country. By train, bus or metro, you'll be on campus in no time. Or you can go to your own place and become a bit of a brusseleur? The department Mens & Maatschappij is located on the Bloemenhofplein and close to the city centre. The school desks are very close to the terraces of Sint-Goriksplein, the stages of the AB, the trendy Dansaertstraat...
Studeren in het buitenland
Inspiratie uit het buitenland? Mais bien sûr en of course!
Trekt studeren in het buitenland jou aan? In het derde jaar van je opleiding kan je voor een semester naar het buitenland, in het kader van Erasmus. Je werkt een studieprogramma af aan een van onze partnerinstellingen.
Ook voor je stage mag je naar het buitenland. Hiervoor kun je eventueel een mobiliteitsbeurs krijgen. Opmerkelijke projectvoorstellen voor een stage in een ontwikkelingsland komen ook in aanmerking voor een reisbeurs. Studenten gingen al naar Frankrijk, Zuid-Afrika, Spanje, Panama, Nederland, Duitsland, Verenigde Staten, Indonesië, Ierland en Turkije.
Het departement is ook lid van SPACE, een Europees netwerk van hogescholen en universiteiten dat de mobiliteit van docenten en studenten promoot en internationale examens organiseert.
Om je nieuwsgierigheid voor het buitenland alvast wat aan te scherpen, trekken we elk jaar samen naar de Dutch Design Week in Eindhoven, een onvergetelijke en bijzonder inspirerende uitstap.
Verkort traject Idea & Innovation Management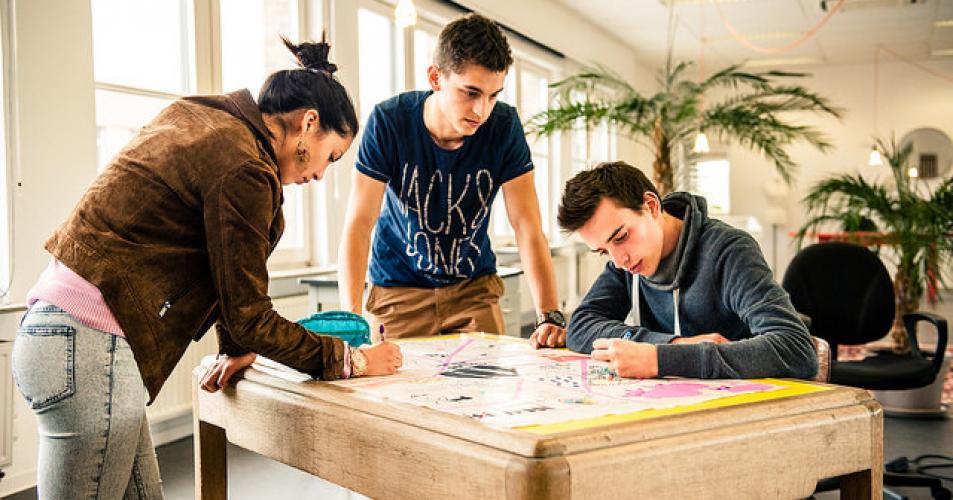 Have you already obtained a diploma or credits elsewhere? Then perhaps we can offer you an individual study programme.
Have you gained a lot of relevant work experience in recent years? Did you know that you can use these to obtain exemptions for an individual study programme?
We also have interesting options for students from the Netherlands!
Kom naar de infodag en schrijf je meteen in
Op onze infodag staan de docenten van Idea & Innovation Management voor je klaar met alle info over je vakken, stages en projecten van de opleiding. Zit je zelf nog met vragen, onzekerheden of dingen waar je benieuwd naar bent, dan krijg je er die dag zeker antwoord op. Ook onze studiebegeleiders en trajectbegeleiders zijn er die dag voor jou, mocht je al specifieke vragen hebt over studeren of je persoonlijke traject. Bovendien maak je ook kennis met de campus en ontdekt waar je de boeiendste jaren van je leven door zal brengen.
Kortom, een infodag zal je een veel beter beeld geven of de opleiding waarin je interesse hebt en je helpen om de juiste studiekeuze te maken. Zo kan je met zekerheid starten aan je opleiding.
Onze infodagen 2020
 
zaterdag 5 september 2020 (10u tot 13u)
zaterdag 12 september 2020 (10u tot 15u)
Info for partner companies
Are you looking for a student who can cooperate actively and knowledgeably to shape your innovation plans? Look no further!
Our programme Idea & Innovation Management at the Erasmushogeschool Brussel started 3 years ago and has since cast its first litter of cubs. Well, cubs... rather all young wolves with a special appetite for renewal, change, movement, innovation. And most of them have already started to satisfy their hunger, because a first job was quickly found.
Too late, then? No way! A new generation is coming... and they are at least as hungry. Here's the good news: You can feed them! Is your company or organisation actively working on innovation or do you want to arm yourself better against change in the near future? Well, maybe they'll come to eat out of your hand? And you actually have three chances to do so...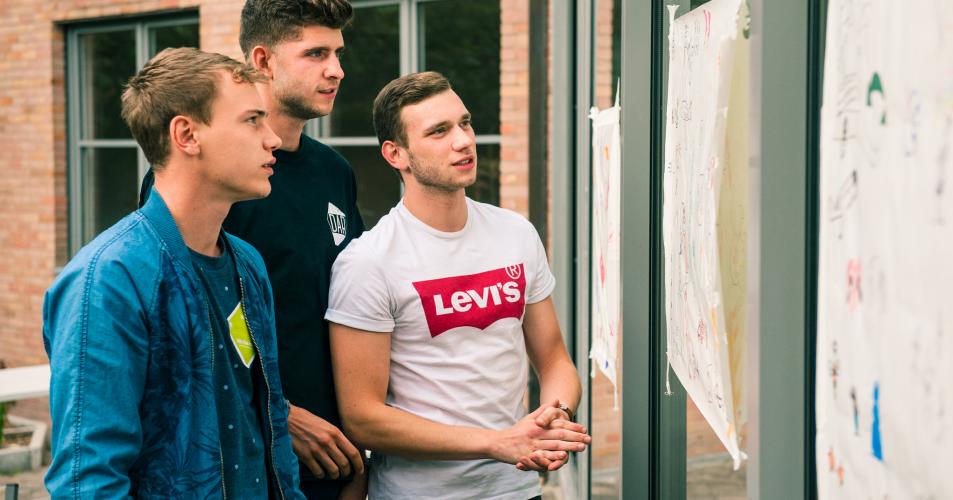 Internships
During previous internship periods, our students were deployed in various departments, from innovation to general management, personnel management, marketing or business. They worked together with organisations such as Accenture, VRT, Medialaan, Nationale Loterij, Telenet, Proximus, Colruyt Group, Baloise, Atlas Copco, Agentschap voor Natuur en Bos, Decathon, KBC, Bekaert, Joker, Agoria, UZ Leuven, De sociale innovabriek, Voka, Unizo, Partena and Flemish and Federal government.
Internship of the sophomore year
The second year students will hold an innovation audit in your company or organisation, carry out a brainstorm or creative session and collaborate on your projects.
Internship of the third year
The third-year traineeships follow their internship with innovative start-ups, SMEs, non-profit organisations, multinationals or governments. We will be happy to determine the exact assignment in mutual consultation.
The innovation case
The focal point of the programme is the Innovation Case. The exact activities depend of course on the assignment. Sometimes the focus is on trend research, on innovation activities or tools. Perhaps the assignment requires the concrete elaboration of business cases or (internal) customers need to be questioned. CSOs may also need help to be more innovative. Start-ups, in turn, benefit from implementation.
Workshop Innovation Hunt
Met steun van het Vlaams Agentschap voor Innoveren en Ondernemen ontwikkelde de opleiding Idea & Innovation Management een laagdrempelige, maar krachtige methode om KMO's te begeleiden innovatiekansen te zien en te ontwikkelen. Dit vertaalt zich in een workshop op maat, met de naam Innovation Hunt.
In crisistijd is het ook voor KMO's extra belangrijk om in te zetten op innovatie om te overleven en te groeien. KMO's zitten door de coronacrisis op hun tandvlees. Daarom wil EhB vanuit de opleiding Idea & Innovation Management kennis aanbieden en op maat van KMO's samenwerken.
We richten ons vooral tot kleine profit- of social-profitorganisaties die innovatiekansen in kaart willen brengen en hiervoor een draagvlak zoeken. De workshop kan online, on site of hybride georganiseerd worden, afhankelijk van de Covid-19-situatie. De kostprijs is afhankelijk van het aantal deelnemers. De workshop kan aangevraagd worden via www.ehb.be/innovation-hunt.
EhB uses a quality monitoring system. This is its own system of quality guarantee. By implementing this system, EhB ensures that the quality of its training continuously improves. In this way, EhB also complies with the decree requirements with regard to quality assurance. 
IIM: quality education! 
The educational visit of the Idea and Innovation Management (IIM) programme took place on 12 and 13 February 2019. During this visit, the quality of the programme was evaluated by a committee of experts. The educational visit is part of the mission of the Flemish Universities and Universities of Applied Sciences Council (VLUHR) concerning external quality assurance in Flemish higher education. Good news because the committee decided that the IIM programme provides quality education that meets three quality guarantees: intended final level (1); educational learning environment (2) and realised final level (3). Curious about the strengths and recommendations that emerged from the educational visit? Then take a look at the quality sheet! 
Input from stakeholders is an important spearhead in the direction. In order to anchor the input of its stakeholders in its operations, every EhB programme organises a cyclical decline in surveys among students, staff, alumni and the professional field. In the quality sheet you can find out what students think of the IIM programme and what alumni, work field and employees have to tell us.